MOVIE IN THE PARK - Sponsors Wanted!
Having a sponsor underwrite the cost of the purchase of a screen or the cost of a show can be a win-win situation. The sponsor gets high exposure at the show and all the promo leading up to the event, and a perfect vehicle to distribute advertising materials, coupons and information at the event. All for the cost of less than an ad in a local paper or radio commercial!
The Movie in the Park targets a the family demographic and is location specific - so ideal for Cable companies, Telecommunications, car dealers and banks.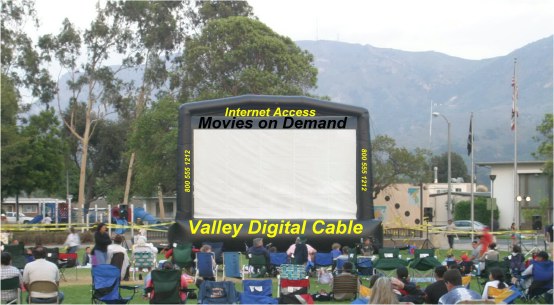 New inflatable screens become a hit for "Movies in the Park" offering sponsors great exposure to family demographics for summer season of movies in 2005.



We are currently looking for companies to help sponsor a series of "Movies in the Park" at various locations all over California.
The Outdoor Movie concept is growing rapidly and we foresee this summer as a huge opportunity for sponsors statewide to
participate in community events that have high impression impact with direct logo advertising on the screen, but also the
opportunity to display product at the event and to run full video commercials.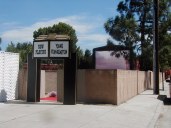 A creative Marquee for a backyard party sets the scene!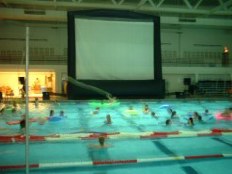 Dive-In Movie! Movies in the Park offer a great opportunity for product promotion and scores high points for community relations!


As well as a Movie in the Park, the concept can easily be adapted to other themed events such as an actual Drive In
(which many families have never experienced) or a Dive In at a community pool.

The events will usually be free of charge to the public, but concessions can be provided for soft drinks and snacks,
that can provide additional funds.
Families tend to arrive late in the afternoon to stake out their patch in front of the screen and this provides ample
time to air promotions, do giveaways, and contests for the kids. As the light dims a Powerpoint presentation,
slide show or commercials from the sponsors will begin to show on the screen. Prior to the main movie presentation
an opportunity is provided to announce the movie and honor the sponsor.

The movie shown will be fully licensed with all royalties paid. we can provide classic family movies or even first run
films not even out on video!

These events are extremely well received by the public and the city councils, providing great PR for the sponsors
as well as a highly visible promotional platform that can expose a name or product in a new, positive and memorable
fashion and a chance to meet potential customers in a friendly environment.

We provide the giant screen (15x20 ft), the sound system, the licensed movie and everything that goes along to
make the events safe and successful.


• Giant 30ft Inflatable Screen
• Sound System
• High Power Video Projection
• Security Lighting
• PA System
• DJ w/music, games & music videos
• Delivery, Setup and Strike


Sign up now for the Summer season.
We can provide systems anywhere in California or all over America!
Parks & Recs, Businesses, Camps, Zoos, Churches, Festivals, Concerts, Atheletic Events,
Schools, Colleges.


Solo Sponsor, Key Sponsor or Co-Sponsor for a single event or for a summer series!



For more information please call Mark Rowlands at (818) 557 0903 or visit the website

215 W Palm Ave., Burbank, Ca 91502





www.Movieinthepark.com Email Mark@t2k.com